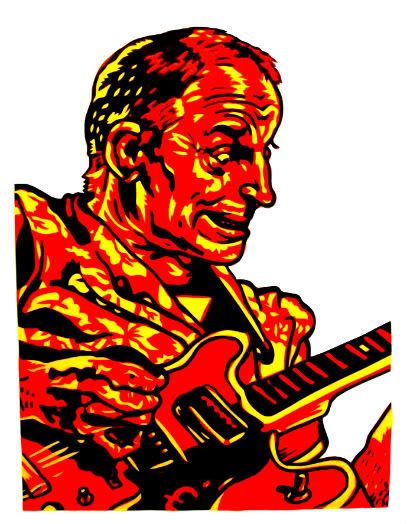 Once upon a time, in the far south of the world, there was a man with a guitar, an attitude, and a pair of jandals.
He rejected the constructs and clichés of manufactured fame and pressed to his antipodean heart the skinny ghost of DIY punk rock.
Born in 1952 in Invercargill, a city as far south as you can get on the South Island of New Zealand, Knox made his way up as far north as Dunedin, where he started what Flying Nun records refers to as "Dunedin's first punk band," The Enemy. His subsequent band Toy Love actually managed to produce one full-length, two live albums, one EP and three singles between 1979 and 1980. Dig up a copy of "Cuts", a two-disc greatest hits volume put out by Flying Nun in 2005 (if you can find vinyl of
anything

 off Flying Nun, buy it immediately, it's rarer than rocking horse droppings), and listen to "Don't ask Me." It sounds so hard and good, and favoribly comparable to anything happening in London and New York (such as Television and The Soft Boys, for example--put it on a mix tape with "I Wanna Destroy You", and it will sound totally fresh and raw. and between them, there's thirty years passed). "Swimming Pool" is another gem that should be in every primer on Punk rock. It reflects on what was going on with the Kilgour brothers at about the same time, and you can practically see the sonic umbilicus reaching ahead a few years to The verlaines and The Chills. Toy Love was one of the seminal bands in New Zealand and Australia (where the band spent much of their two-year existence), and their influence would spread with its disbandment. Bassist Paul Kean became a member of Clean bassist Robert Scott's new group The Bats, and Chris Knox and guitarist Alec Bathgate would form the two-piece indie legend Tall Dwarfs.
The Tall Dwarfs (no, that's not spelled wrong) took little loops often put together by Chris on his four-track and made a range of inspired songs with minimalist structures--there are echoes of Young Marble Giants, The Clean, Neutral Milk Hotel; there are songs that are sweet and endearing, softly pained, utterly ridiculous, and really, really fucking vicious. "Pirouette", off 1990's "Weeville" features a high whining guitar drone backed up by a frenetic tap-tapping rattle of (one assumes, jury-rigged) percussion and a growling rhythm guitar loop. The earnest, pained lyrics denounce conformity and banal cliché as a fever-pitch gradually builds. The violence, anger and scatological sociological assaults are part and parcel to Knox's approach to music, as is his insistence that the music, the making of it, the artists' integrity, comes before
anything

 else. Burned by Toy Love's exprience with big business music, Knox became a resolute practitioner of home recording and lo-fi techniques and aesthetics.
This course of action was to provide Knox with a lot to do, and was to become the backbone of New Zealand's burgeoning punk scene.
As aficianados know the legendary label Flying Nun was formed, in Christchurch by Roger Shepherd, circa 1981, it was partly in order to put out The Clean. As The Clean began to garner local respect, Knox determined that he would be damned if this was going to happen around him without his involvement.  Chris' grandmother had passed away, and with inherited money, he bought a four track and became the main engineer for Flying Nun. In 1981 he and Doug Hood recorded "Boodle Boodle Boodle" for The Clean, and after it's November release it became the first "hit" for the label.
Chris also was a talent scout and distributor for the label, roaming the South island with his four-track and bearing the Flying Nun standard. His taste was eclectic, but resolutely anti-pap. He believed so stridently in the down-tech method of doing things, and so fervently rejected the musician-as-businessman ethos that he caused some trouble for the label and some of its more ambitious acts, but on a label that could not even afford to press the records it had recorded, Knox' efforts ensured that when the money was there they would have something amazing
to

press.
There is a fantastic documentary about Flying Nun that anyone interested in this period/region of punk-pop absolutely must see. I've been unable to find it anywhere outside of youtube, and watching it in nine seperate sections is a little grating, but well-worth it (the archival footage of The Chills is terrific, and the interviews with Knox and Shepherd are, to a DIY junkie like myself, nothing short of inspirational).
In the inroduction to "Almost", a compilation of songs written for albums but not included for some reason, that was put out by Dark Beloved Cloud, Chris writes the following: 
I'm constantly amazed by those who actually

seek

 fame. I can't think of anything much worse... a

little

 more exposure would be nice..."
Most Amercians these days would be gobsmacked to even contemplate this sentence. But turn the tube on to one of those soul-numbing shows like Entertainment Tonight or something, and cringe with me at the vapid celebrities and their controlled, haunted privilege. Watch the sycophants rend each others' flesh to get a better spot at the trough where they suckle the shit from these bloated swine. Witness the vultures of the paparrazi hordes swarm over these people as they try to scratch back even a fragment of normalcy. Then there are the multitude of "reality" shows where people abase themselves for a tiny taste of precious fucking fame.
Artists want to interact with society at large, it's what we do, but when creative people suckle at the tit of Commercialism and Capitalism, and do a little more to kill their competition--to make art-making a competitive blood-sport especially--they betray more than themselves alone. They destroy everything we all are working for.
Chris Knox makes good music. He also provides a great example of what can be achieved with a delicate balance of ego and humility (not necessarily mutually exclusive traits).