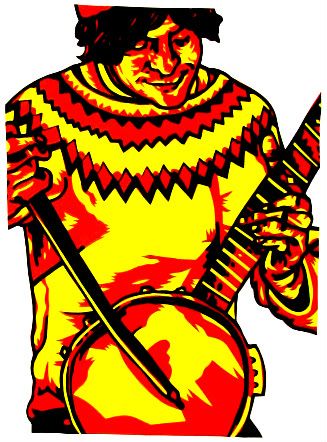 i make the following admission only with the certainty that i do not stand alone in its embrace: as a genre, "christmas music" instills in me the urgent desire to make madly for the hills.
there are certainly exceptions to this acerbic and frankly humbuggish rule. the lush limited-edition seven-inch "he's coming home" b/w "old toy trains" by dean and britta (with sonic boom) is one of them; so too low's genre-busting ep, "christmas," originally self-released on cd and now available on vinyl. (both succeed where most pop x-mas offerings fail in different ways. dean and britta's little disc downplays the overt christianity of traditional carols and focuses instead on the warmth and feeling behind the rituals and atmosphere which permeate the holiday season--nostalgic reference points for even we amongst the secular cynic listening audience. as practicing mormons, low brings their spirituality to the table with their album, which includes some christmas standards, but also originals. however it withdraws to a matter-of-factness that doesn't try to proselytize, and the music can be heard and felt without inner conflict for all but the strictest existentialist.)
anyway, with this holiday caveat ideologically embedded, i found myself at a crossroads when i was invited to a leg of the music tapes' marathon "caroling" tour, which a pair of good friends was hosting in their home.
on the one hand, i was excited that my friends had landed the opportunity to host the gig, they being enthusiastic fans of the elephant 6 collective, and because i (rightly) suspected their house, with its impressive stacks of tapes, records and cds, its andy kaufman and kiss figurines, and its daniel johnston and james mcnew art, would provide an apt and welcoming venue for such an intimate event.
on the other hand, there was no escaping the cheery holiday vibe as the show loomed closer on the calender, and the un-apologetically christmas-ness rumored to be due fostered a finicky apprehension that i would go to an intimate gathering around former neutral milk hotel instrumentalist julian koster, and find myself nose-deep in schmaltzy regurgitated indie versions of "rudolphs" and "jingle bells."
on the other hand, the chance to attend (and as it turned out, to participate peripherally in) such an unusual event was palpably intriguing. and with the venue a scant five blocks away, it was too ridiculously convenient to skip out on. of course, if you're following along, this math results in three hands, which is creepy. hmmm...
in the end, of course, we stuck a flask of bourbon into warm coat pockets and strode through the frigid night to my friends' place.
the house was lit with colored lights and filled with a small crowd of cool-looking people; the sense that we were all in on a secret together was inescapable. no real spacial divide existed in the living room between the audience, seated in folding chairs, sofa and floor, and the three band members surrounded by lights, vague automatons (a snowman, bell-ringing mice, etc), and a barrage of well-worn or outright tattered instruments. still not sure what to expect, we settled in as koster, in a high, excited voice, began his show.
what followed was a journey through a highly personalized version of the idea and practice of christmas, set to music ramshackle and sophisticated, eked out through bow-played banjo, collaged re-purposed recorded material, singing saws, brass and keys. subtle moments of beauty, such as the pure sonic bliss of saw duets, were juxtaposed with almost over-the-top jokes and nearly too-saccharine personal stories (some no doubt based in fact, some certainly false, and both peddled with equal candor and import). the impression was that koster was actually living the fantasy he was acting out for us, weirdly evocative of pee wee's playhouse, the film "delicatessen," indie shows and schoolboy recitals, and though it was actually magical at times, at some points in the show the only thing that saved it from being pathetically contrived was that sense of honesty. it was a delicate balance struck, therefore, with the scales tipped just to the right side, but retaining that sense that catastrophe was lurking in the corner, waiting for its opportunity to spring.
with this in mind, the utter disregard for the "fourth wall" shown by the music tapes seemed especially ballsy but, in that they succeeded in compelling jaded seattle hipsters to happily be woven into the fabric of the performance through highly interactive actions (including passing around a huge gift-wrapped box, being blindfolded, and incredibly, jumping over a flaming can full of our own incinerated totems). this is remarkable in that people here seldom even
move
at shows, much less dance, and audience participation is a rare and painful-to-observe occurrence at the best of times. so koster's blend of musical ingenuity and (faux-?)naive presentation definitely seemed to have charmed rather than chagrined.
after collecting our coats and shoes, we walked home, keeping warm with a shared nat sherman and sips from the flask, we debated: what did we just see? was it good? was it weird? i guess it was both. and that was alright.
i dreamed last night that i saw the music tapes play a more conventional show, and woke up thinking, "aha! now i can contrast the two for a better review!"
i have no idea what they must have played like in my dream though, so that write-up will have to wait until reality provides me the opportunity to see them again.