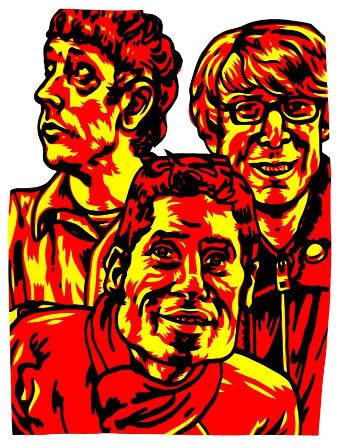 several years ago i interviewed martin donald of the australian twee-pop trio
the lucksmiths
for a small seattle lit/culture magazine called
rivet
. it was pretty exciting. i was crazy about this band (still am to be frank), and very people had heard of them yet on this side of the pond. the
rivet
issues were conceived around central themes like "perspective," "invention," "value," etcetera. regular columns and features would reflect these themes, as would specials and illustrations, haikus and whatever else. so when the theme was announced as "luck" i thought, well, i'll shoot an e-mail to [the now-defunct label] candle records requesting an interview, they'll shoot me down, and my editor will know i tried. much to my delight however, candle's head honcho chris crouch not only hooked me up with an interview, but was nothing short of totally generous and encouraging. i was so stoked. i may as well have been interviewing tom waits or david byrne. or at least belle and sebastian. i nervously compiled my list of questions and sent them off to lucksmiths' lead guitarist and main songwriter, marty donald, in january 2005, as the band was finishing work on a new record.
a heavily edited version of this interview originally ran in
rivet
issue #13, the "luck issue," in spring or summer, 2005, i can't remember which. my friend andrea jean, a librarian, recently sent me a note saying how she'd come across a review of the magazine (in general) by one douglas mcclemont, of the library review service, which noted, "an interview with the possibly fictional band, the lucksmiths is a highlight [sic]." i lol'd as the kids these days say.
my mom's an editor. maybe that's why i've never liked being edited, i don't know, but i thought why not run the original, uncut interview for posterity. many thanks again to crouchy and marty for the generous sharing of their time and energy.
here it is:
matt neyens: in all your albums, there is a great mix of humor and heartbreak, sometimes combined. is there a concerted effort on your part to create that balance, or does it just happen in the songwriting process? also, how important is the humor to your songs?
marty donald: the combination of humour and heartbreak is not accidential, though neither is it entirely self-concious: i don't get to the third verse of a song and think 'this is a bit gloomy, better whack a pun in.' most songwriters i admire (and writers of all sorts, for that matter) strike a balance between the two; morrissey is probably the most obvious example of this, although david berman and bill callahan spring to mind as well. without wanting to get overly heavy-handed about it, i suppose having humour leavened with a little sadness, or sadness lightened by humour, appeals because that's largely what life is like, and artists who tend towards a more simplistic point of view generally seem to me to be missing something. a good deal of our early material seems (in retrospect) excessively jocular - favouring cleverness at the expense of emotional content - and as a result i shied away from that in my writing for a while. so i'm pleased if you feel i'm striking a good balance between the two.
matt: on the subject of songwriting, do you tend to bang things out quickly in a flash of inspiration, or do you tend to ruminate on songs over a long period of time?
marty: very much the latter. though there are exceptions (notably "the great dividing range," which i recall coming in a couple of hours), after the initial inspiration - usually just a line or a title - most songs take me weeks or months even, occasionally, years to finish. and this seems to be increasingly the case over time, which probably should be something of a worry.
matt: you write the lion's share of the lucksmiths' output. is this a comfortable relationship with you guys, first, and second do mark [monnone] and tal [white] tailor their songs to be similar to yours stylistically, are they similar naturally, or is there more of a collaborative effort musically than just bringing in a tune and saying, 'here, play this?'
marty: for me the balance of writing duties within the band is a comfortable one, although as you point out, i'm the one with the lion's share, so it might not be so for the others. but it seems to have evolved that way naturally; it's not something we've ever really had to discuss. i'm not much of a musician, as such (certainly less so than mark or tali); songwriting has always been the primary attraction of being in a band for me. as for the similarities in our writing styles, i'm constantly surprised by the extent to which this is commented on (even though i have the same problem with other multi-writer bands such as teenage fanclub and sloan). to me, there are very obvious differences between our songs. but i suppose these are disguised by the lucksmiths' sound they inevitably assume, and in this regard you're right to suggest a degree (albeit varying) of collaboration. arrangements and often individual parts are worked out collectively in the rehearsal room. and given the amount of time we've been playing together [
as of this interview, about twelve years
], stylistic similarities are unavoidable.
matt: i recently saw your label-mate darren hanlon (who has guest-musician-ed with you many times) perform here in seattle, and very few people knew who he was. how much exposure do you feel you and other bands from your local scene are getting, both in australia and abroad?
marty: i find it very hard to judge precisely how paltry the level of fame we have achieved is, and even harder to explain. within australia, we have been playing and releasing records for long enough to have established ourselves fairly well - an interviewer recently called us 'iconic!' - without having broached the mainstream to any real degree. as for the rest of the world, there seem to be handfuls of fans dotted here and there, and generally when we visit the handful seems at least a little bigger than last time. when we first toured to the northern hemisphere we were amazed that anyone at all had heard of us, and i suppose the novelty of hearing people on the other side of the world sing along to our songs has never really worn off.
matt: related to the last question, the lucksmiths have been kicking around since 1993. how do you guys feel about where you are as a band? you've obviously influenced a lot of the newer chamber-pop" bands, and your sound has been consistent - and terrific - over the years. are you a success? are you guys happy about how things are going for the lucksmiths?
marty: related to my last answer, i find it hard to say whether or not we're a success, although the very fact that we're still making music together must count for something. in a recent interview tali employed the frog-in-a-saucepan-of-water analogy to describe our career, which seems apt: even if it's been slow enough coming that we might not have noticed it ourselves, i do look at our (however modest) success with a degree of pride. and this is certainly so in a less careerist sense, and more an artistic one, which has always been more important to all of us: i have been happier with each successive record we have made, which is a nice thing to be able to say.
matt: you have a new single (which will be out by the time people read this) called
the chapter in your life entitled san francisco
. presumably this is anticipating a new full-legth[ed record] to be released soon. would you say something about either or both of these projects?
marty: i am typing from audrey studios, where we have just begun the mixing process on our forthcoming record, provisionally titled
warmer corners
, from which
the chapter in your life entitled san francisco
is taken. it's been a while between releases for us, and i'm quite excited about both the single and the album. it's distinctly more upbeat, and more fully-developed or textured than
naturaliste
[2003]; the songs seem (to me, at least) simultaneously more adventurous and more 'classic' than much of our previous work. (i should warn you, though, that this is the first time i've been forced to describe it at any length, so i don't yet have the pat little phrases from the press release at my disposal.) a big feature is the brilliant work of louis richter, who has been the fourth lucksmith in the live context for a year or two now, but whom we have not worked with in the studio before; he has brought to the songs an unerring ear for a jangly guitar line or a tasty organ part. ad we have again had the pleasure of working with producer craig pilkington, whose beautiful string- and organ-arrangements are the aural icing on the cake. the single, which is to some extent indicative of the direction of the record, takes its somewhat unwieldy title from a 1930s pro-californian-emigration pamphlett i stumbled across a couple of years ago in a secondhand bookshop.
matt: lastly, you're over there on the other side of the globe, and i often wonder what you guys are listening to that sounds great to you. what were your top five records from last year [2004]?
marty: my top five records for last year (already largely forsaken for the two new bright eyes albums; and including, given the geographical-remove thrust of your question, at least two australian releases) were okkervil river's
down the river of broken dreams
(which i think actually came out in the u.s. in 2003, so i'll include their
sleep and wake-up songs
ep as well); shearwater's
winged life
; the concrete's self-titled album; art of fighting's
second storey
; and our labelmate darren hanlon's
little chills
.
19 january, 2005; 14 february, 2005.